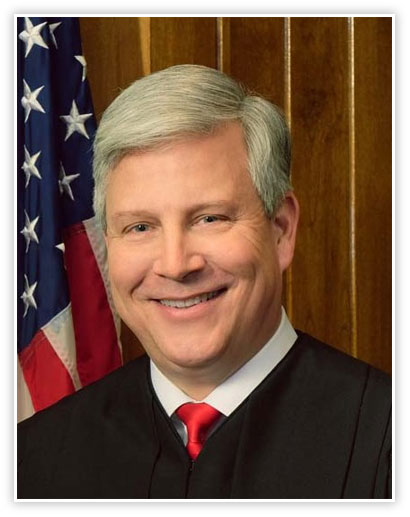 JOHN R. WILLAMOWSKI 
Judge John R. Willamowski was first elected to the Third District Court of Appeals in 2006 and was re-elected in 2012 and 2018. He earned his undergraduate degree in philosophy from the University of Notre Dame and his law degree from Ohio Northern University.
Prior to becoming a judge, John Willamowski was appointed to and served a total of five terms in the Ohio House of Representatives beginning in 1997 and ending in 2006. While a member of the Ohio House of Representatives, Judge Willamowski served as chairman of the Judiciary Committee, chairman of the Civil and Commercial Law Committee, chairman of the Municipal Government and Urban Revitalization Committee, and as chairman of the Correctional Institution Inspection Committee; and at various times was a member of the Criminal Justice (vice-chairman), Health, Retirement and Aging, Juvenile and Family Law, and Agriculture Committees. During this time, John also served on the Supreme Court of Ohio Task Force on Pro Se and Indigent Litigants.
Before becoming a judge, John was also engaged in the private practice of law in Northwest Ohio for over 21 years.
John has served as the Administrative Judge and as the Presiding Judge in the Third Appellate District and is a member of the Council of Chief Judges of the State Courts of Appeal. He is co-Chairman of the Legislative Committee of the Ohio Judicial Conference and sits on its Executive Committee. Judge Willamowski has been assigned by the Chief Justice of the Ohio Supreme Court to sit on cases in the Second, Fifth, Sixth and Seventh Appellate Districts, as well as on the Ohio Supreme Court.
In addition to his judicial duties, Judge Willamowski sat for 9 years as a Commissioner on the Board of Professional Conduct fka the Board of Commissioners on Grievances and Discipline.
Judge Willamowski is a member of the Allen County and the Ohio State Bar Associations.
John's wife, Mona, is an attorney; they are the parents of four children, Matthew, Sheila, Kimberly and John Jr.